Six figure salary recipients at the State Bar of Texas (2016)
[Editor's note: these figures do not include state pension benefits or embezzlement perks & royalties such as former Texas Bar membership director Kathy Holder's half a million dollar theft of dues funds over nearly a decade.]

| | | |
| --- | --- | --- |
| NAME (in ascending order, based on one's annual 2016 salary) | POSITION TITLE | SALARY (not including benefits) |
| BURKS, PAUL | Video Production Director | $103,944.00 |
| HOMBURG III, PAUL | Trial Attorney II | $103,944.00 |
| STROLLE, STEPHANIE | Trial Attorney II | $103,944.00 |
| SQUIRES, CORY | Research & Analysis Director | $104,000.00 |
| BOWER, HEDY | Professional Development Division Director | $104,823.00 |
| BROWN, LOWELL | Communications Division Director | $105,000.00 |
| JARRATT, TRACY | Finance Division Director | $105,378.00 |
| HARLAN, TONYA | Regional Counsel | $105,446.00 |
| MILLER, JAN | Law Related Education Director | $105,963.00 |
| HAMILTON, CYNTHIA | Sr. Appellate Counsel | $107,502.00 |
| SANDLE, SHARON | Law Practice Resources Division Director | $110,250.00 |
| ROGERS, PAUL | Purchasing & Facilities Director | $111,964.00 |
| CHAPMAN, JONATHAN | Information Technology Director | $112,394.00 |
| TURNER, AMY | Human Resources Director | $121,873.00 |
| MAJOR, EUGENE | Attorney Compliance Division Director | $122,545.00 |
| SPEARS, KANICE | Member & Public Services Division Director | $122,545.00 |
| CANTU, RAY | Asst. Deputy Director | $145,800.00 |
| VICKERS, GAYLE BODA | Deputy Director/Counsel | $148,604.00 |
| POWELL, BRADLEY | Chief Information Officer | $149,626.00 |
| MCALLISTER, PATRICIA | ATJ (Access to Justice) Executive Director | $152,250.00 |
| JONES, DONALD | Legal & Attorney Services Division Director | $158,006.00 |
| EHLER, JAMES | Deputy Counsel - Litigation | $165,841.00 |
| SIRMAN, JOHN | Legal Counsel | $166,036.00 |
| POPPS, LAURA | Deputy Counsel - Administration | $168,508.00 |
| LANEY, KALYN | Asst. Deputy Director | $182,090.00 |
| MCKEEMAN, CHRISTINE BODA | Executive Director/General Counsel | $184,850.00 |
| ACEVEDO, LINDA | Chief Disciplinary Counsel | $190,767.00 |
| NESTER, PATRICK | Deputy Executive Director | $216,400.00 |
| HUNTER, MICHELLE | Executive Director | $289,380.00 |
| | | |
In 2019, the annual salary for the Chief Justice of the Texas Supreme Court was $170,500. [Source; alternative source: page 9]. Meanwhile the Governor of Texas received a lesser salary of just over $153,750 annually [Source; alternative source]. Texas legislators reportedly earn around $600 per month in base pay, according to this source.
In comparison, in 2016 the Executive Director of the State Bar of Texas received an annual salary of $289,380 (plus benefits, pushing that compensation package well over $300,000). That salary is over $100,000 more than Texas pays either the Texas Governor, or the Chief Justice of the Texas Supreme Court.
Meanwhile, in 2016 at least nine different employees of the Texas Bar received higher salaries than the governor of Texas, while nearly half a dozen received higher salaries than the Texas Supreme Court's Chief Justice. Furthermore the Texas Bar reportedly paid its approximately 270 employees over $19 million in salaries and $6.6 million in benefits—over $25 million in total. That amounted to nearly a $95,000 annual compensation package per Texas Bar employee (plus state pension benefits and other perk$). The Bar nevertheless secretively sought the ability from the state legislature during the 2016-2017 Sunset Review process to get to evade membership referendum restrictions against dues increases. Somehow the Bar actually obtained the right to increase dues by 10% every 6 years in the final version, SB 302, without its even having to comply with membership referendum requirements in the future. The Bar had previously e-mailed the entire Bar membership that member referendum rights remained intact in the wake of the Sunset Review Commission's final bill's approval, thereby catching the membership off guard when the bill went for subsequent (and abrupt) legislative approval...
"The Texas Bar is apparently the most profitable not-for-profit state governmental entity in all of Texas." -Joe Longley (2018-2019 Bar President)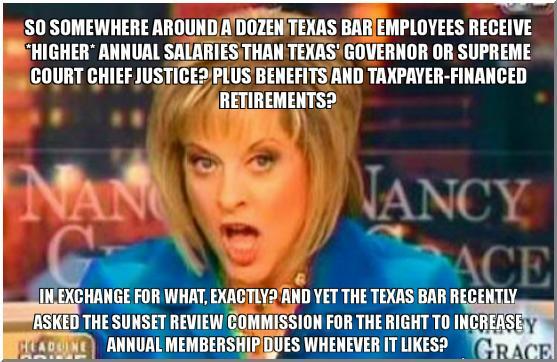 Here is salary data for all employees of the Texas Bar in 2018, according to TxLawyersForReform.com.
Here is Texas Bar budget data.


Would you like to contact us?
To return to our cover page: